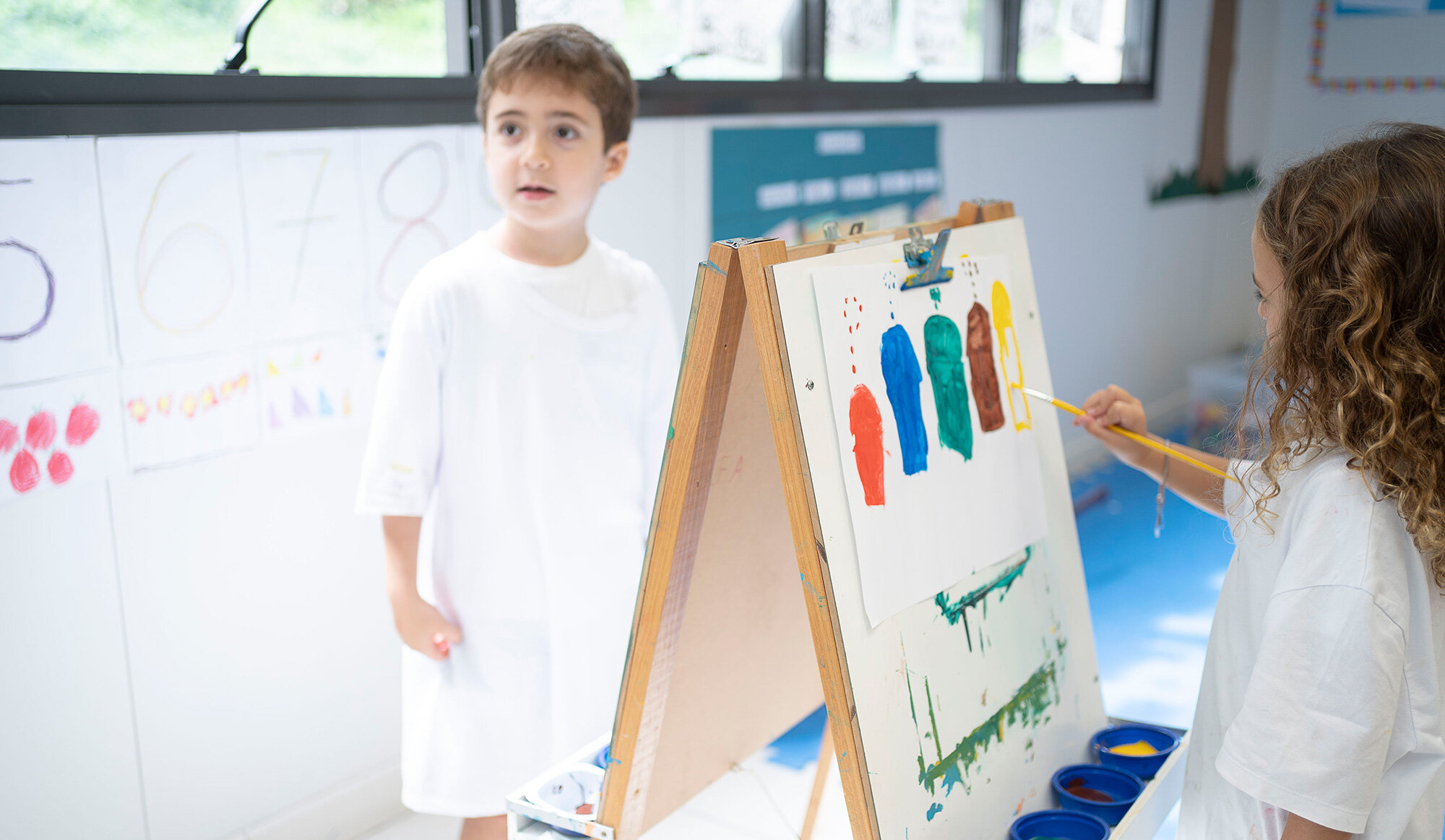 SIS Educational Concept
The Heart of Our Pedagogical and Entrepreneurial Approach
Our educational concept lies at the heart of our social, pedagogical, didactical and entrepreneurial approach. But every concept is only as good as its implementation in everyday school life – that is why we make it our highest priority to live by it on a daily basis. Our students and their learning needs are at the heart of our efforts.
This is put into practice by taking into account the following eight aspects:
Our Educational Concept at a Glance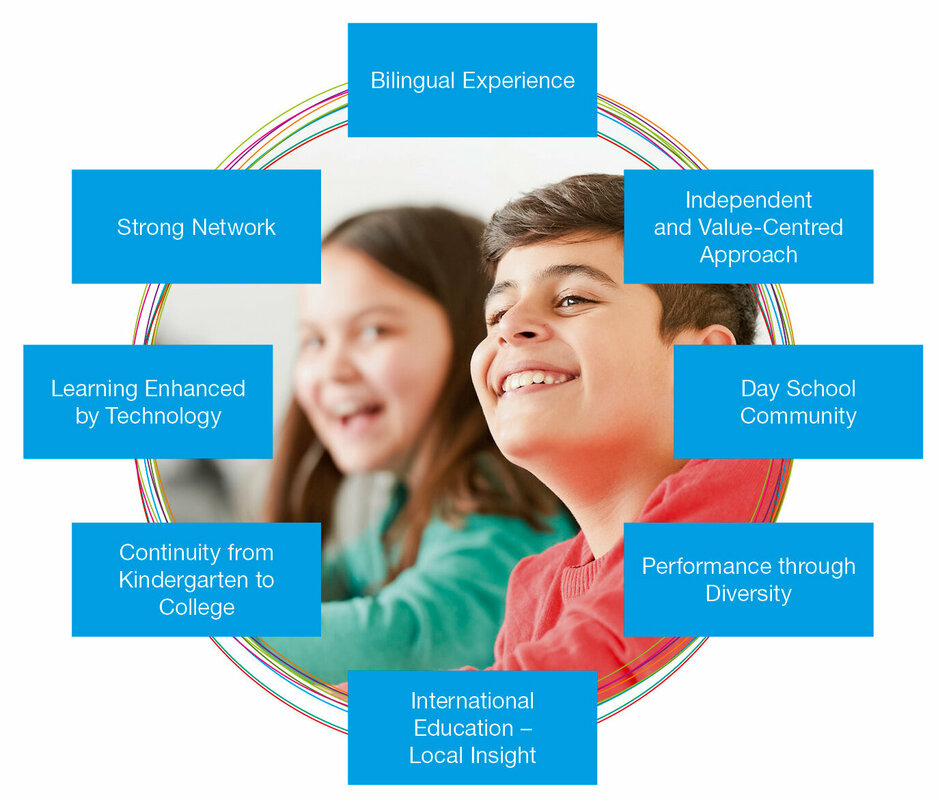 English and Italian play equal roles in school communication – in the classroom and in all parts of day-to-day school life. As a result, children learn to express themselves naturally and confidently in both languages. Language is acquired through the immersion method, which invites children to dive headfirst into the new language. Students use the second language to engage with the world in a playful and completely natural way.
SIS faculty all have a level of native-speaker fluency. They not only use their language for teaching in the classroom, but also in the school yard, at lunch, and during events and excursions.
At SIS Swiss International School, children can learn both Italian as well as English through immersion – even if they are not native speakers of either language.
Independent and Value-Centred Approach
The teaching philosophy at SIS Swiss International School is not ideological but instead founded on clearly defined core values. We strive to embody the values we seek to impart to our students: honesty, appreciation, personal responsibility and commitment. Our aim is to support students in establishing their own cultural, linguistic and social identity so that they may:
develop into committed individuals with a strong sense of personal responsibility for their actions
relate to other people, languages and cultures with openness, willingness and respect
think and act as global citizens and members of their local community
These qualities are at the heart of our interactions with the children and young adults entrusted to our care.
Our day school offers a structured and challenging programme of consistent bilingual classroom instruction with fixed hours, lunch, supervised homework hours and additional supervised periods and activities.
For our students, school is a place to learn and thrive – an environment that is stable and nurturing while presenting them with appropriate challenges. By eating, playing and learning together, they learn to share with others, develop assertiveness, and take pride in their achievements.
Performance through Diversity
The varied, stimulating environment of SIS Swiss International School supports students in achieving academic excellence while allowing them to take enjoyment and pride in what they learn. Our international student body combined with teachers hailing from diverse backgrounds result in a diversified range of teaching and learning methods applied to the learning process.
Each school's curriculum is based on the relevant state curriculum and supplemented by international elements. In addition, we use our own SIS curricula and materials in key subject areas in order to effectively impart relevant information while fostering bilingualism.
It is our goal to promote learning as an integral part of life, and to give young people the opportunity to become independent, reflective learners. Students at SIS are encouraged to achieve their full potential and exceed their own expectations.
Moreover, we maintain close contact with parents and regularly discuss their children's progress and learning style.
International Education – Local Insight
Our intention is that SIS students graduate as global citizens with a strong sense of their origins.
For students at college level, we offer targeted preparation for the national high school diploma. At the same time, they have the opportunity to complete the International Baccalaureate Diploma Programme (IBDP), which culminates in a globally recognised university entrance qualification. We are pleased to welcome local children as well as the children of internationally mobile families.
Continuity from Kindergarten to College
SIS Swiss International School offers a single unified learning concept – from kindergarten, primary and secondary school through to college level. The offer of school levels may vary by location. Because we cater to all education levels, we can facilitate a seamless transition from one stage to the next.
Throughout the academic year, a range of events and activities bring together children from various classes and levels, creating a genuine sense of community where students of all ages have the opportunity to learn from one another.
Learning Enhanced by Technology
At SIS, technology is used in a targeted manner across all subjects, underpinned by a pedagogical concept for learning and teaching. Students explore the areas of digital technology, programming and media as well as communication and e-safety. We use up-to-date, dedicated software to support the learning process of our students.
The bilingual SIS IT Curriculum is the foundation of digital learning in our kindergarten and primary school. Specific, levelled goals provide a pathway of progression for students. As they move up through the school, they are introduced to Microsoft Office 365 as a communication and learning platform allowing both in-class and online learning.
Various forms of technology can be found in all our classrooms and are used in an integrated way that enhances learning.
Our schools are part of the SIS Swiss International Schools Group, which has been a pioneer in bilingual education since 1999. At present, more than 5.000 students attend SIS schools at one of our 17 locations in Switzerland, Germany and Brazil.
The first school in Italy will open in Basiglio, close to Milan in September 2024. The SIS Swiss International School network ensures consistently high quality standards, as structures and processes at our facilities are evaluated, developed and enhanced on an ongoing basis. Plus, our international organisation provides teachers and students with a platform to exchange experiences and insights across borders.
Moreover, SIS colleges are accredited IB World Schools – making them members of a world-renowned international educational organisation.
SIS is a company of the Kalaidos Swiss Education Group which belongs to the Klett Group Germany.